How to Involve Guests Who Couldn't Make It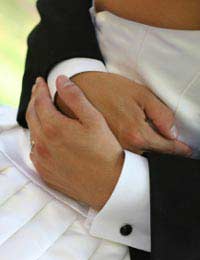 Your wedding day is the one day when you want to be surrounded by the people you love and care for the most as you and your partner declare your love for each other. Sometimes there are reasons beyond anyone's control which mean that some loved ones are unable to make it to your wedding but there are always ways to ensure they can be a part of your celebration.
Why Can't They Attend?
One of the main reasons why many people often cannot attend a wedding as they live in a different country and are unable to travel to the wedding. This could be because it is too expensive or maybe work or family commitments mean they can't leave. Some people also are unable to attend due to long term illness but this doesn't mean that they can't play a role in your wedding day. For guests such as family or close friends who have been invited and know in advance that they cannot attend the ceremony, a popular choice is to make a video message for them which is played at the reception. It is easy for anyone to record and is a fun and meaningful way to pass on your congratulations to the couple and more personal than a card. It also means that the absent guests can still play a part in your day.
Your Wedding Location
Couples deciding to get married abroad may find that many of their guests cannot attend as travelling to another country for a wedding can be very costly and not everyone can afford to go. If it is not an option to contribute to your guests' travel costs and many of your family and friends cannot be with you on your wedding day, a popular solution is to have a small celebratory party when you return home. It doesn't have to be an expensive event but rather just a little something to make sure that you can celebrate your new marriage with the people who matter and to include them in the most important day of your life.
Remembrance
When family members and friends have passed away, occasions like weddings where families gather can be difficult but it is always nice to remember them on the most special day of your. There are a variety of ways to do this while still celebrating your special day. Mentioning loved ones who have passed away in the speeches is a way in which they can be involved in your big day and ensures that they are still in the hearts of everyone on the day. In religious weddings, often a prayer for the deceased is said as a part of the ceremony. Another way to remember people who have passed away, especially parents or grandparents is to wear something that reminds you of them such as a locket with a photograph in it, maybe a veil or cufflinks or piece of their jewellery.
Just because someone can't attend your wedding in the physical sense, you can still involve them in the celebration and have them play a role in your special day. It's a day for family and friends coming together in spirit to share the happiness of the couple.
You might also like...