The Role of the Best Man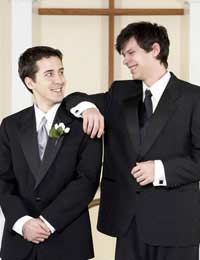 The title's no accident – a best man really has got to be the best at everything they attempt on a wedding day. It's up to the groom to choose the person he believes will get involved in the preparations, organise a stag night to remember, make sure he's at the church on time and give a speech so funny that even your grumpiest relatives will be clutching their sides with laughter. Start preparing for your responsibilities now with this checklist of best man dos and don'ts.
Accepting the Job
Being a best man is a high-profile job and one that comes with a large amount of responsibility attached. If the groom's got his head screwed on, he will have asked you not only because of your close personal connection to him, but because he's confident you will be able to fulfil the obligations placed on you.
Such a degree of trust placed in you means you've got to feel both willing and able to carry out the job of being best man. If you're a party-lover who'd rather get drunk than get things sorted out, or if you've got a crippling fear of public speaking, think twice before telling the groom you'll do it. Other reasons to turn down the job include a previous relationship with the bride, or bad feeling between yourself and the bride's family, as neither is going to make for a harmonious working environment.
Whether you accept or not, you should make it very clear to the groom that you're enormously flattered to be asked and you'll do your best to help him in any way during the run-up to the wedding.
Early Involvement
As you'll have a crucial part to play on the day, it's important to be involved with the organisation from the outset so you know what'll be expected of you and when. A best man who turns up the night before and expects everyone to tell him what's required will only create resentment among the rest of the bridal party.
If you don't already know the bride and her family, get yourself along to an early planning session to meet them. Better still, organise a dinner where you can chat to everybody and offer your help with various aspects of preparation.
You might be left to organise certain things on your own, such as transport to and from the different venues. When making bookings, follow the golden rules of wedding planning: make sure you have a solid idea of what's required, shop around for a good deal, run everything past the bride and groom before you confirm and keep copies of all paperwork to avoid errors later.
The Stag Night
Your biggest pre-wedding task is likely to be organising the stag night – the final fling of bachelorhood for the groom. First off, banish any thoughts you may have of chaining him naked to a lamppost prior to his nuptials. The point of being a best man is to look after the groom's interests, not wreck them.
In the same vein, the groom has presumably chosen you as best man because he feels you know him well. Use your experience of his likes and dislikes to pick activities he'll enjoy – strippers and wild excess might be fun for everyone else, but won't go down well with a timid and weak-livered main man. Bear in mind a good stag night will have a balance of organised activity and informal relaxation time, so don't pack your itinerary too tightly.
The destination can be a surprise if you want, but the groom should definitely have a say in other aspects – chiefly, who's to be invited and how much things will cost. Sit down and work out a guest list with addresses and phone numbers before you do anything else. This will then give you a better idea of how many you're catering for when you start considering potential activities and destinations.
Return to the groom to check the budget of the activities you've chosen (there's no need to reveal what they are, just give him quotes per head and say whether they include food, accommodation etc.) Only after you've got approval should you start ringing round to invite people.
If a lot of invitees balk at the cost of whatever you've chosen, you'll have to go back to the drawing board and find a cheaper alternative. The groom will almost certainly prefer to spend time with lots of well-wishers in the pub than to be whisked off for a lonely time at an exclusive destination.
The Big Day
Your first job on the day of the wedding is to get the groom into his suit and check he's got everything he needs. If the newlyweds are going on honeymoon straight after the reception, tell the groom to check he's got passports and tickets stashed away while you ensure you've remembered the rings and organised prompt cards for your speech.
It's your responsibility to make sure the groom gets to the church on time. Have the number of your transport company and a local taxi firm on standby in case you need them, and call a prearranged contact at the church to let them know you're leaving.
Throughout the morning and the wait at the church for the bride, keep the groom as calm as you can. If he looks worried and nervous, the guests will feel that way too. Once the ceremony gets under way, you'll be standing up with the happy couple for the duration, so try to look interested in the proceedings – it'd be hugely embarrassing not to be listening when you're asked for the rings. You may also be involved in the signing of the register.
Outside the church, play your part in lining people up for specific photographs – unlike the bride, groom, bridesmaids and parents, you won't be required for most of them! For the same reason, it's also a good idea for you to be the one providing directions to the reception venue.
If it's a formal wedding, the best man may be required to act as toastmaster during the reception, which involves introducing the bride and groom when they enter and shushing the guests for the speeches. Whether you do this job or not, the time's almost come for your own speech. Relax and smile to keep your audience interested, and remember not to go on for too long or you'll exhaust everybody's goodwill.
Enjoy yourself by all means at the reception, but keep an eye out for any difficulties or trouble that you can deal with to save bothering the happy couple. Don't forget to grab the groomsmen and head out to decorate the car the newlyweds will be leaving in that night!
Afterwards
Offer to assist the bride's parents in the clean-up operation when everybody's gone home and the new Mr. and Mrs. have jetted off on their honeymoon. You probably won't be authorised to pay suppliers' bills unless you made the booking in the first place, so help with the mundane stuff - picking up wedding outfits to return them to hire shops, or clearing debris from the reception venue.
Finally, with so much to do in the preparation, execution and aftermath of the wedding, you're likely to be as exhausted as the bride and groom by the time it's all over, so take a couple of days off after the wedding to recuperate. If you've done a good job, other friends will soon be queuing up to ask you for your assistance at their weddings!
You might also like...