Finding a Videographer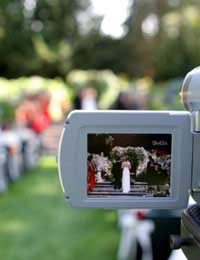 We've all sat through wedding videos that consist of two hours of shaky footage focusing on nothing more interesting than the back of several guests' heads. Happily such naff images are now a thing of the past, with professional cameramen – or videographers – able to film your big day from beginning to end, edit the highlights into a slickly-presented package and add your choice of music to give the whole thing atmosphere. Here's how to find the perfect videographer from the many offering their services – meaning you'll never have to cringe when friends and family ask if they can see the tape…
The Basics
Before you start ringing round local videographers, make sure you're armed with all the information they'll need to give you a decent level of service. Basic facts including time, location and number of guests will be important – an evening do, for example, will need to be filmed differently from day events, while big bashes mean videographers will have to spend far more time filming people than at a small do.
As with photography, you'll need to make a decision about what parts of the day should be captured on film. Do you want a videographer there while you're getting ready, on the way to the church, and at the dancing afterwards?The biggest influence on your decision will probably be the personal style of the videographer. Do some thinking about what you expect from your video – are you after a romantic, soft-focus look, or a harder-edged contemporary one? Should it be chronological, or a selection of the best bits? Getting such things clear in your own head will make discussions with the professionals much easier.
Making Appointments
The general rule of booking wedding specialists is that the better the supplier, the more quickly they'll be snapped up. Start doing your ringing round at the same time you're looking for a photographer – at least six months in advance, nine if you're getting married in the peak wedding season between April and September.
Any videographer worth their fee knows that clients want to see their work before agreeing a booking. Many cameramen now post clips of their work on the Internet, which allows you to decide whether their personal style's for you or not.
Once you're at an appointment, the videographer should show you a sample video or DVD of their previous work. Beware if this is a package of 'highlights' from several different weddings – it suggests they're not an expert at the job. You're paying them to film your wedding and yours only, so you need to see a recording of a single wedding from beginning to end.While the recording's playing, the videographer should explain how certain effects have been achieved and answer any questions you have. Use this time to find out how helpful they are, as well as whether you feel comfortable with them or not. After all, you're going to be spending a lot of time in their presence as they move around you on your big day, so picking somebody who puts you on edge isn't a good idea.
Once you've thrashed out the details, go over them again to be clear about what your package contains. Verify how long the videographer will be attending the wedding, the events they'll film during the day, the cost of effects, equipment, public liability insurance (not legally required by videographers, but important in case anything happens to their equipment) and extras such as adding music to the end product. It's also a good idea to ask about how the finished copies will appear – as videos, DVDs, and/or web clips that can be viewed by guests on the Internet.
Questions to Ask
Find out how long the videographer's been in the business and how many weddings they've covered before yours. Experience doesn't guarantee a better end product, but it does mean they're more acquainted with the mechanics of weddings, which will make the filming process smoother for everybody.
The odd technical inquiry will quickly give you an idea of the videographer's passion for their subject. If you ask how they stop camera shots from being shaky like in amateur videos, or about the way a particular effect is achieved, their answer and they way in which they deliver it (not too much jargon, plenty about what such shots add to the quality of a video) will reveal their commitment to getting things just right.
Check whether the videographer is a member of any industry bodies, such as the Institute of Videography (IoV). Again, this doesn't mean their style is any better than a non-accredited person's, but it gives you the peace of mind of knowing they're adhering to a professional code of conduct and that any complaints you have can be addressed to a higher authority.
On the Day
Having a camera filming your every move's a pretty intimidating prospect, but if you've chosen the right person, they'll be able to get you relaxed and unfazed by the filming. Remind yourself that this video's meant to be a flattering record, so any 'mistakes' on your part can be removed later. Then smile and do your best to forget the videographer is there for a while!
It's also exhausting to be followed around constantly by the camera. Agree beforehand that when you ask for a 'time out' from filming, the videographer will go and take shots of something else for a while, so you can go to the loo or mop up your wedding tears without worrying about being filmed doing so.
Finally, don't assume that once something's captured on camera, its set in stone and will appear on your wedding video for everyone to see. If there's anything you're not happy about during the day, ask the videographer to re-shoot it until you're satisfied. Remember you're the star of the show today – so make like a Hollywood diva and don't let up until you're sure you look perfect!
You might also like...