Wedding Photo Albums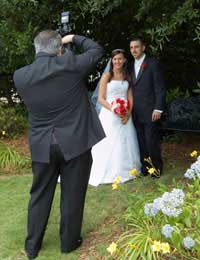 Most couples will pay out hundreds of pounds to hire a professional photographer for their wedding day - after all, it is the most important day of their lives. But it shouldn't be left to the photographer - who is usually a stranger - to record your special day. There are lots of little tips and tricks to make sure that you get both the professional, 'official' looking record of the day and also get to see it from the point of view of your guests, too.
The perfect Album
It's only the last couple of years that has seen people getting married having any kind of choice in the type of albums that they had their wedding photographs stored in. On the whole, albums in the past were white or ivory and embossed with what looked suspiciously like blown vinyl wallpaper, usually in a flowery pattern better suited to the walls of Great Aunt Maude's house, than gracing the cover of your wedding album.
All that has changed though - there are now so many different colours and styles to choose from - and of course with the advent of digital photography, it's possible to store and distribute photographs online - giving couples even more choice - so the type of album you have comes completely down to what you want.
You can choose to have the albums matching the theme or colours of your wedding - which will enhance the photographs contained within or you can go for a completely different look - it's all up to you.
The newer style wedding books embrace the more intimate nature of wedding photography, rather than focusing on the stiff and formal photographs that we're so used to seeing on the mantelpiece of older married couples. Photography that captures more than the 'official' version of events is extremely popular now and documents the day from beginning to end - sometimes starting before with dress fittings, and wedding rehearsals and stretching to the first days of the honeymoon.
Wedding books can be whatever size or style you like. You can choose portrait, landscape or square shapes, and hard or soft covers - which can depict your own design and in doing so, give exactly the impression you want to give of your wedding day. Whether you want it to be remembered as a fresh and modern ceremony, or an old-fashioned, traditional wedding, you can do this by carefully selecting the right album. When you've made your choice, wedding books can also usually be ordered in smaller, almost identical versions of the original book to be given as a beautiful keepsake for parents of the bride and groom.
So how do you get those 'behind the scenes' photos?
Disposable Cameras!
Give the bridesmaids and ushers disposable cameras and get them to take pictures of each other and the bride and groom during the 'getting ready' stages. These are the more private, nervous bits of the day that the happy couple won't get to see otherwise. When it's time for the reception, put more cameras on each table and when these are developed, you will get to see your big day as your guests saw it. It also gives you some great material to make a huge collage with images from your reception, which you can frame, and hang on the wall - a great reminder of your special day.
Get a projector
If your photographer is using a digital camera, it may be possible for them to upload the photographs from the day of the wedding onto a laptop computer - and with the use of a projector, make them into a slideshow that can run during the evening reception. Some evening guests won't have seen the happy couple actually get married, so it's nice for them to be able to see how the day went. Most people love seeing photographs of themselves, and after a few drinks they can have a good giggle at the ones that aren't too flattering!
You've been Framed!
Take your favourite shot of you and your husband or wife-to-be maybe one from a previous holiday, or your engagement - and have it framed in card. At your wedding reception, ask guests to sign the border, and once the wedding is over you can have it framed and hang it on the wall of your home - a pretty and novel reminder of your special day.
You might also like...