Creating High Quality Wedding DVDs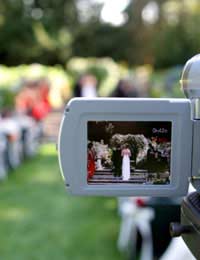 Banish those images of dodgy Camcorder footage done by your friend's friend - the modern wedding video's a much more professional affair. No longer do you have to force people to sit in front of hours of shaky images promising them that the good bit's just coming up, now that there are dozens of companies clamouring to produce a top-of-the-range film. Here's how to ensure your memories of the big day are perfectly preserved for you and yours in years to come.
Photography Versus Video
If you're already forking out for a professional photographer, you may wonder why you need to pay someone else to record the big moments as well. However, there are advantages to the moving picture that the humble camera can't match.
A lot of brides and grooms find their big day so confusing that they don't always take everything in at the time, so a video's a good way of replaying those key moments as they happened. Absentee friends and relatives will also benefit from a faithful record of the day's highlights. A film removes the fear that you haven't picked the best shots of a particular event - and it can even include reaction from guests and officials that you wouldn't otherwise be able to hear.
However, it's unwise to assume a video can take the place of photography. Guests often ask for copies of photos in which they're featured, and it's a bore for them to watch a whole film to see if they've been caught on camera. Copying videos and DVDs is also a lot more expensive than photography - and it's also illegal if the copyright doesn't belong to you!
Finding a Videographer
As with every other specialist wedding supplier, you'll need to book early to secure the person you want. Get your request in as soon as the date and venue of your wedding have been confirmed.
The main factors that will dictate your choice of videographer are style and price. The style of filming varies considerably between companies, who may use more than one camera and will all employ different editing and effects in the production of their film. Many companies will use the Internet to showcase examples of their work; if they don't make sure you do see a sample before making a booking.
Various forms of billing exist for wedding videos. Some companies charge only an hourly fee, while others offer a package guaranteed to include certain events on the day - service, cake-cutting, speeches etc - , or let you build up your own package from a choice of different highlights. Whichever option you choose, make sure the cameramen will cover everything you want filmed - selecting a cheap package is a false economy if it leaves you with scrappy results.
In terms of the purely practical, cast a quick eye over the company's equipment list to check their goods are up to scratch. Any company who doesn't display their gear on their website or won't provide you with a list may have something to hide.Insurance is a must when you're bringing expensive equipment into public places. Companies should have public liability insurance, to cover them against any accidents with your guests. If they're affiliated to an organisation such as the Association of Professional Videomakers (APV), it's also a good indication of their credentials.
On the Day
Be aware of when your filmmaker is turning up on the day. If they're coming to film you getting ready, then it's advisable not to be totally unprepared before they arrive - remember your friends will be watching this later, and shots of you in a greying bathrobe or tatty towel won't paint an appealing picture.
The most expensive part of a video is usually filming the service. It is vital that your officiant gives permission for this to be done, as it's illegal to film without consent. Filming a service usually carries a charge - find out whether this is included in your package or has to be paid as an extra.
Don't expect the camera to be on you all the time. Good cameramen will know when to film and when to switch off, and there's really no point in watching 20 minutes of people eating and chatting when you could be using the tape to record more exciting things later.
Afterwards
Professional editing is one of the things that will set your film apart from a home-made version, but it does take time, particularly during high season. Be prepared to wait at least two weeks for your video after the ceremony, and anything up to six if it's during the summer.
You may be able to choose music to be added to your wedding video once it's edited. Make sure the videographer has a licence to use popular music in his finished films before you start requesting specific tracks.
Video is still a cheaper option for most companies to film on, but many now offer DVD versions of the film for an extra charge. Find out whether you'll be getting video, DVD, or a mixture of both for your money, as well as the cost of extra copies on both formats.
Finally, use the fact you've got a fabulous record of your wedding day as an excuse for a party. Invite all the people who couldn't attend on the day and hire an overhead projector to show your film as large as possible. If you serve champagne and slices of wedding cake, it'll almost be like attending the wedding twice!
You might also like...