Second Marriage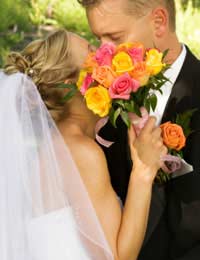 Whether you're marrying your first or your tenth partner a wedding is a sign of commitment to one another and should be a time for celebration. If you're planning to get married for the second time, you're not alone – 40 per cent of marriages in the UK today aren't the first for one or both parties. Here's how to navigate the minefield of possible difficulties and make it an occasion to remember.
Ceremony
First, the practical bit – before you get married again, you need to produce a document that says you're legally able to do so. This means the decree absolute if you're divorced, or your former partner's death certificate if you've been widowed.
As second marriages become more common, religious ministers are relaxing their views on holding ceremonies for divorced people. Talk to your local minister and find out their views on the matter. Some will be more accommodating than others, so be prepared to ask around if your nearest church says no. If you get a firm 'no' on the religious front, ask whether the minister can perform a blessing after you've been legally married in a civil ceremony.
Planning
There's no rule that says you have to keep a second marriage small and intimate – if you're both ready for a big celebration, then plan one. Be prepared to shoulder the costs yourselves, however, as the price of the average wedding's rising all the time and your parents can't really be expected to pay for another big shebang.
Fashions and your own tastes may well have changed since your first wedding day, but even if you'd like to have the same flowers on the altar or a cake that looks just like the original, avoid it. This is a different marriage to a different person, and the last thing you want people to do is draw comparisons between your weddings.
Guests
Knowing the rules on who should and shouldn't be invited is a tricky one when there's more than two families to consider. You may still have close ties to your previous partner and in-laws, particularly if you've got children, and inviting them is perfectly acceptable as long as both of you are happy to do so.
However, remember this is your big day, and you should only have people there who can be as happy about it as you are. Don't give anyone who doesn't rejoice in your remarriage an invite just because they expect it as a close friend or family member. If they wonder why they've been excluded, explain that you'd love them to be there but you don't feel they'll be happy watching a marriage they don't support.
Even if you're not going to invite your ex to the wedding, it's only polite to tell them you're getting married again before they find out from somebody else. Attempting to keep it a secret, particularly if your children already know, is asking for trouble.
Kids?
Telling the children is one of the biggest challenges of a remarriage – they can be angry or upset by the idea. Give them as much time to get used to it as you can by telling them about your plans early.
Involving the children in the ceremony is a good way to make them feel part of a new family unit. Ask them if they'd like to be part of the ceremony as bridesmaids or pages, giving a reading or even giving the bride away. Whatever they decide, do make a conscious effort to involve them in decisions about the preparations as it'll increase their sense of belonging and calm any fears they'll be neglected when you remarry.
One way of making the children feel as important as you on the day is to organise a separate 'reception' for them. Let them send invitations to their friends, provide a cake they can cut and eat among themselves, and music they'll want to dance to later on. Any awkwardness around your partner's children or unfamiliar relatives will be banished if they've got their own thing to do.
Differences
Partnerships where one person's been married before can hit problems when planning a wedding, especially if they're not after the sort of big celebration the first-timer wants. So what do you if you're dying to make a big splash, but your partner just wants a small do? The same as any other time you disagree – compromise.
You should be able to see why your other half might want to keep things low-key this time round, just as your partner should be able to recognise the importance of the day in your eyes. The important thing with any sticking points is to come up with a solution you can both live with – after all, this isn't about avoiding their demons or indulging your personal fantasies, it's about beginning a life together.
You might also like...