Alternative Honeymoon Ideas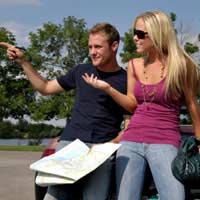 Scorching sun, warm sea lapping against sandy beaches and all the time in the world to do nothing is certainly some people's idea of a perfect romantic break – but for others, a typical beach honeymoon could be the worst start possible to married life.If you can't stand the thought of lazing around doing nothing more strenuous than tanning, here's some suggestions to help you book a holiday that's truly the trip of your dreams.
Epic Journeys
There's an old proverb that says marriage is the greatest journey you'll ever embark on – so why not echo that sentiment by taking a real voyage of discovery together? You can combine the destination of your choice with your preferred mode of transport, be it a drive across America in an open-topped car, a desert trek on the back of camels or even cross-country skiing through mountainous climes.
Research your chosen route beforehand, working out what you want to see along the way so you don't miss out on anything. Try to keep your itinerary as relaxed as possible – you might suddenly find yourselves wanting a day longer in a particular place, or simply needing a time-out before moving on, and things such as advance hotel bookings can get in the way of a free-spirited existence.
Having said that, it's a good idea to leave a couple of extra days at both the beginning and end of your route. If you're travelling a long way, time on arrival will allow you to acclimatise, adjust to jet-lag and sketch out a rough itinerary, while time at the other end gives you a contingency for unforeseen problems.
Cities of Culture
Don't assume 'culture' is another word for dusty museums and never-ending churches – use your honeymoon to take in some of the world's greatest sights instead. From the Great Pyramids of Egypt to the Taj Mahal and the Great Wall of China, you can spend your time touring places of interest and soaking up the history of other countries without ever setting foot in a museum – unless you want to!
If you're culture vultures with a particular passion for a certain type of art or music, try building your trip around your interest. Opera lovers, for example, might fancy hearing performances in famous theatres across Europe, while devotees of a particular artist could map out a tour of their idol's home town, as well as visiting galleries containing their works. Look at the itineraries of professional tours to get ideas for your own stops, and leave plenty of time to relax in between.
A Thrilling Ride
Dedicated adrenaline junkies requiring a holiday where they can indulge their passion for thrills should look for an exotic activity holiday that combines activity with stunning surroundings. How about a trek through the Amazon jungle, a mountaineering expedition in the Himalayas or any one of a dozen hair-raising pastimes in that temple of extreme sports, New Zealand? pIt's also fun to learn a new skill together, so make sure your trip includes one thing that neither of you have done - the experience of learning together will be a brilliant way of cementing your new partnership.
Home is Where the Heart Is
How often have you come home from work, picked up the paper and seen a dozen things going on around town that you'd love to be able to do - but simply don't have time for? Use your honeymoon as a time to do these things together.
Make a list of all the weekend trips you've promised yourselves you'd go on, restaurants you fancy visiting, activities you want to try and local events that sound interesting, then see how many you can fit into your break. You'll save a lot of time and money while still having a fantastic break from your normal routine - and all without sacrificing your home comforts! Even if you can't manage everything on your list, it'll serve as a great prompt should you ever find yourselves with a spare weekend to fill..
.
Can't Agree?
Booking a honeymoon can be a stressful business if you both have different interests, but there's no reason for one of you to lose out. Plenty of tour packages now offer 'two-centre' holidays, combining relaxation or an activity with time to sightsee in various places of interest. You can either go with a tour operator or plan your own break, splitting time between different locations and excursions. Whether you're a beach bunny, a history lover or an action man, you're bound to be able to work out something that suits you both. After all, the key to a successful marriage is compromise - so start practising as early as possible!
You might also like...