Choosing Poems and Readings for Weddings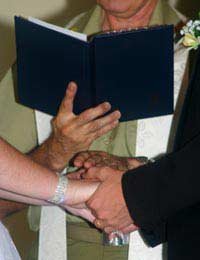 When planning a wedding, there are so many different elements to consider; the decoration, outfits, colour schemes, guest list, food, but there is one big part of every wedding day which is sometimes overlooked by couples and that is choosing the readings for their ceremony. As well as the speeches at the reception, many couples choose to include various readings or poems in their ceremony relating to their big day. They are used in both faith weddings and civil ceremonies and are a personal touch to the day.
Traditional Readings
For a traditional Christian church wedding, the readings for the ceremony are usually chosen from the bible and taken from one of the four gospels. The readings can be anything chosen by the couple but they are usually centred round the theme of love, unity, companionship and marriage.
Here are the top five religious readings for weddings:
Jesus teaches about marriage (Mark 10: Verses 6-9)
How to be a good lover (John 4: Verses 7-12)
Jesus teaches about true happiness (Matthew 5: Verses 1-10)
Story of creation (Genesis 1: Verses 26-28)
If I do not have love, I gain nothing (Corinthians 12:31 – 13:8)
On most occasions, a member of the family or friends of the couple is invited to recite the readings as a way of becoming involved in the ceremony and this is often followed with a prayer for everyone to read together - it is a nice way for both sides of the congregation to come together and show their love for the couple.
Non-religious Readings
Because civil ceremonies have no religious meaning, readings taken from the bible are not always suitable for the ceremony. Instead, many couple opt for a poem or a story relating to how they feel about each other to incorporate into their day. With so many poems and stories on love and marriage, it is not hard to find the perfect one for your big day.
Here are the top five readings for civil ceremonies...
"To be one with each other" by George Eliot
"Hope is the thing with feathers" by Emily Dickenson
"She walks in beauty" by Lord Byron
"Sonnet 13" by William Shakespeare
"A dedication to my wife" T.S Elliott
A reading or poem can help enhance your wedding day and re-affirm your love in a beautiful and expressive way.
Musical Readings
As well as using well known readings and poems, many couples choose to use songs or pieces of music instead. Many song lyrics have deep and romantic meaning for a lot of people and are preferred to a spoken piece of literature. Many couples chose to write their own readings or poems to each other as they are more personal and straight from the heart.
No matter what readings you choose for your wedding day, the important thing is to sit down and think what you and your partner want to say about your union and either find a suitable reading to fit that or create your own. No matter what your choice, readings and poems can give your day a lovely personal touch and show the love you have for each other.
You might also like...