Stag & Hen Party Ideas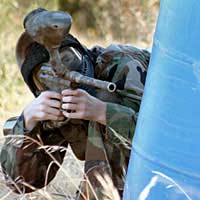 Fancy celebrating you're last moments of freedom on a pub crawl with your friends dressed up in L-plates and fluffy angel wings, drinking yourself silly on cheap cocktails and then being accosted by a stripper covered in squirty cream? If this is your idea of a good stag or hen do, then don't read on – but if you're after something a bit different, hanker after a thrilling experience, or just aren't the pubs-and-stripper type, then see what you think of these alternatives for a great pre-wedding party.
Going Abroad
The price of international transport is going down all the time, so why not board a plane, ferry or Eurostar and celebrate your stag or hen do somewhere more exciting? Party towns such as Prague and Amsterdam have become popular with UK revellers looking for a pub-and-club experience, and have the added benefit of plenty of cultural sights right on their doorsteps, so you won't be bored in the daylight hours either (assuming you wake up between nights out!)Go online to check out the various travel companies dedicated to providing overseas experiences for stag and hen parties. As well as sorting out the basics of travel and accommodation, they'll be able to pre-book excursions and activities for you. Ask for details of any discounts agencies can offer on these before you book.
Lords (and Ladies) of the Manor
A house party needn't mean ruining your carpet and risking your ornaments if you hold it in somebody else's house. Booking out a luxury holiday home in the UK means you'll have access to all your creature comforts and can party as much or little as you like - with none of the hassles of cleaning up afterwards.
Seaside cottages, farmhouses or even castles are out there for hire – it's just a question of deciding on the type of property you're after. Then load up the boot with things to keep you entertained – booze, board games, DVDs and other necessities for a great night in – and prepare your mates for evenings spent playing Strip Twister or seeing if you can mambo along to Dirty Dancing.
Thrill-Seeking
Go-Karting or paintball? Bungee jumping or clay pigeon shooting? What about zorbing (rolling yourself down a hill inside a giant inflatable sphere)? These are just some of the things you and your friends can get up to if you're active types who want to spend the time bonding over more than just alcohol.
Stag and hen dos are meant to be fun, so it's best to pick an activity that nobody's really tried before, otherwise the 'experienced' types will pull ahead of the others and you won't have the fun of learning the ropes together. It's also a good idea to check everybody in your party is willing to try any scary stuff – timid types may not thank you for an invitation to spend the weekend hurling themselves off tiny platforms way up in the air with elastic strapped to their ankles.
Pamper Yourselves
Spa days are an increasingly popular way of preparing for the wedding, with use of a pool, gym and relaxation areas alongside a package of treatments designed to make you look and feel fabulous. You'll get meals thrown in and have plenty of time to chat in between facials, manicures and spray tans. It's especially brilliant if you hold the do close to the wedding, so the effects last until the big day.
The only watchword on a spa experience is price, as packages can often be expensive. However, there's no rule that says everybody has to have the same number of treatments, so you may be able to tailor things to suit individual pockets. Both day and residential spas also often offer discounts for block bookings, so it's worth asking when you ring up to book.
Real Show-Stoppers
What could be better than marking your big day with a big event? Scour the entertainment guides for news of any music festivals, food exhibitions or even funfairs coming up before your wedding, then try planning your stag and hen parties around them.
A really big event is bound to offer something for everyone, giving people the freedom to wander round and enjoy different activities rather than all signing up for the same thing. Just make sure you build in plenty of pre-arranged meeting-up times during the experience – after all, it's awfully difficult to celebrate with your friends if they've all wandered off in different directions!
You might also like...