Bridal Shows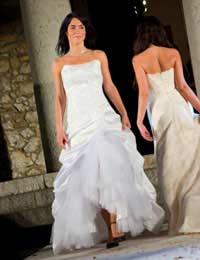 There's just so much to remember when you're planning a wedding – from big details like the venue dress and number of attendants to tiny ones such as centrepieces, programmes and thank-you cards. And even supposing you do remember them all, it can take hours of painstaking research before you're well-informed enough to make a decision about the style of items you're after.
Bridal shows can take the work out of ringing round or scouring websites by presenting everything you're looking for in one place. Here's a guide to what you can expect from a show and how to get the most out of them.
Why Visit a Bridal Show?
As mentioned above, the time-saving effect of having everything from dresses and beauty treatments to venues, caterers and florists in one place is phenomenal. You can make contact with suppliers, get an idea of their stock and contact details just by wandering from stall to stall.
Bridal shows are also an excellent place to get inspiration for your wedding. You'll be able to view hundreds of different products in one go, find out what's available and before long, you'll be considering ideas you didn't even know were possible. Being able to talk to suppliers face to face is a big bonus – they can make recommendations and tell you of any decent suppliers they know in your area.
And just like any large exhibition, wedding shows are a great place to pick up freebies! Accept whatever suppliers hand out to you - it's just like going window shopping, but with none of the guilt.
What's on Offer
Whether big or small, the best bridal shows include everything – and we mean everything! For all your fashion and beauty needs, there'll be dress, lingerie, jewellery, shoe and accessory designers as well as numerous people offering beauty treatments from fake tanning to cosmetic surgery.
Just about every kind of specialist supplier will be on hand, with caterers, photographers, florists, cake makers, care hire firms and entertainment agencies giving you the chance to sample their wares. Companies who organise gift lists also turn out to give you an idea of what they can provide.
Wedding venues will be handing out brochures at the event, and wedding planners can advertise their services. There'll also be a variety of travel agents to help you organise overseas weddings or honeymoons – everything from short romantic breaks to month-long sun-drenched adventure holidays.
The more practical aspects are also dealt with – financial advisers and insurance companies turn up to offer advice on budgeting and protection on the day. And there's even advice to help those responsible for planning stag and hen parties from companies who make a living sending brides- and grooms-to-be off in style.
And that's just the stands. Major exhibitions often include extras like bridal catwalk shows or free makeover areas, where you can get an idea of the latest fashions for your face and body. Professional wedding planners may also offer taster sessions to help you get started with the preparations.
Local Shows
Not all bridal shows are enormous extravaganzas – plenty of local exhibitors will advertise at regional shows, which will give you an idea of what's available in your area. It might be a good idea to begin with a visit to a really large exhibition to get a feel for what you want, before attending a few shows locally so you can track down a supplier who can help you achieve your dream wedding.
It's definitely worth going to more than one show in your area. Not all suppliers will attend every single show that comes up, and you'll want to get as many ideas as possible before you commit yourself to anything. Plus, many shows will be held in hotels that offer wedding packages, so it's a good way of killing two birds with one stone – you can view the venue at the same time as finding suppliers!
A word of caution to finish - don't allow yourself to be overwhelmed by the quantity of suppliers out there. Use the first few shows you visit to form an idea of what you want, before beginning to make commitments to various companies. Bridal shows are just that – there to show you what's on offer, not to force you into any kind of commitment. So brush off pushy salesmen and get on with planning a day where you're the main exhibit!
You might also like...